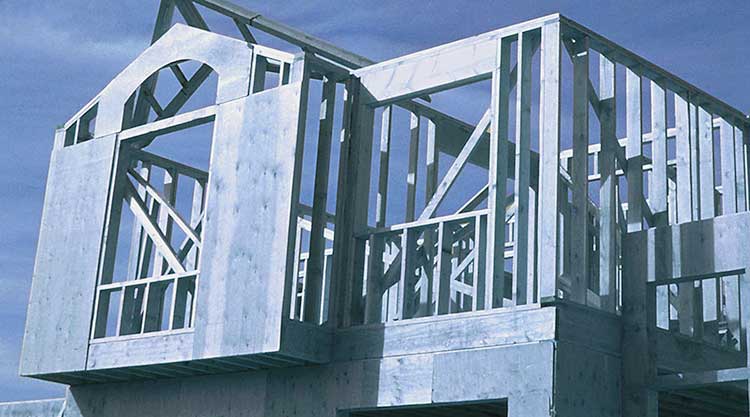 N-Durz® Borate Treated
Taking on bad bugs.
N-Durz® brand pressure treated lumber protects against termites (even the Formosan), carpenter ants and fungal decay, including dry rot. And it's backed by a Lifetime Residential Limited Warranty.
The Formosan termite has a reputation for chewing through thin sheets of soft metal, electrical lines, plastics, mortar, rubber insulation and anything else that gets between it and a home. According to an LSU AgCenter study, the Formosan termite eats wood faster than other native subterranean termites. It also builds the largest colonies of any species in North America – with nearly 10 million termites in a single colony. And it's been spreading farther and farther north in recent years.
Changing the game
Chemical barriers have long been the main approach for protecting new homes from termite attack. But the Formosan termite has challenged chemical barriers in several different locations. That's why it is more important than ever to build your new home with N-Durz® brand borate treated lumber. It's a termite's worst nightmare.
Borate treated products are approved for use in above-ground, weather-protected structural framing in residential and commercial projects, such as residential dwellings, industrial buildings, mobile or modular home construction.
What are Borates?
Borates are naturally occurring minerals that have proven effective in protecting wood. They are found in many everyday items such as laundry detergent and eye drops.
Basic Uses
Products pressure treated with borates are easily recognized by their industry standard blue tint. The addition of a blue dye during the treating process makes it easy for building inspectors to identify the products as borate treated.
N-Durz® brand borate treated lumber from Great Southern Wood is treated with disodium octaborate tetrahydrate (DOT). This preservative is registered with the EPA and meets requirements of American Wood Preservers' Association Standard P5.
Borate-treated products can be used for:
Joists
Studs
Sills
Roof trusses
Furring strips
Blocking
Rafters
Sill plates
Beams
It is also recommended for fascia, trim and miscellaneous wood applications, when properly protected from the weather (refer to limitations). Borate-treated products may also be used in above-ground sill plate applications where permitted by local building codes. Borate pressure treated plywood is recommended for wall sheathing, roof sheathing and sub-floors where not exposed to wetting conditions.
Workability
As with untreated wood, borate pressure treated lumber may be sawn, drilled or routed with standard woodworking equipment. Fasteners used with N-Durz® brand borate-treated products should be compliant with building code recommendations. Check with local building authorities and building codes regarding acceptability of fasteners and fastening requirements.
Limitations
Borate-treated products are intended to be used for framing and applications where the wood is not in direct contact with the ground and is continuously protected from water. Normal exposure to weather during ordinary construction will not adversely affect the performance of the product.
When products are used in weather-protected exterior applications (such as fascia board), it is recommended that the product be continuously protected from direct wetting with a minimum of one coat oil-based primer and two coats oil-based finish paint/sealer. Always check the label of the finishing product and follow the manufacturer's instructions. During construction, if the wood should become wet, it should be allowed to dry before finishing. Apply finishing product to a small exposed test area of your project before finishing the entire project to ensure you obtain the intended result.
Borate pressure treated lumber products should not be used for decks or other outdoor structures exposed to weathering.
Borate pressure treated lumber products are expected to provide long-term service. Failure to observe the above three precautions could result in product failure.
Products intended to carry the Lifetime Residential Limited Warranty and/or to be used to protect against Formosan termites must be treated to a minimum retention of .42 pcf DOT. Please see the Lifetime Residential Limited Warranty for details.
Technical Information
Use appropriate untreated lumber and plywood span tables for borate pressure treated lumber for each of the respective species. Building codes may require 19% moisture content and 18% moisture content for plywood at time of installation. This is achieved by the treater kiln-drying or air-drying the products prior to installation. Great Southern Wood is proud to offer both KDAT and wet treatments.
Technical information and Safety Data Sheets are available.
Additional Technical Documents
Job Site Storage and Handling
As with untreated wood, it is necessary to keep borate pressure treated lumber products dry by covering the material with plastic or storing the materials under shelter and elevating the material above the ground to allow for air circulation.
Sheathing should be covered as soon as practical after installation. If wetted during initial construction, allow materials to dry before permanently enclosing with felt, wallboard, etc.
Installation
Southern Yellow Pine lumber 2" or less in thickness and plywood do not require field cuts to be treated with an approved end coat preservative. All field cuts of other types borate pressure treated lumber shall be field treated with either a 2% solution (copper metal basis) of Copper Naphthenate or a 10% solution of DOT, or another approved end coat.
Care shall be exercised to use industry-accepted good construction practices for the construction of all wood member assemblies.
Construction shall meet or exceed state and local building codes and standards. Be sure you comply with local state and federal safety regulations when installing framing and sheathing.
Warranty and Technical Support
Borate treated products are backed by a Lifetime Residential Limited Warranty against structural damage due to termites, carpenter ants or fungal decay.
Why Use the YellaWood® Brand?
Preservative technology is on the leading edge of the industry.