YELLAWOOD PROTECTOR®
Semi-Transparent Stain & Water Repellent Wood Sealer
Homeowners and contractors alike appreciate high-quality home improvement products, and nothing is as recognized or respected as YellaWood® brand pressure treated pine. When building with the best, it makes sense to finish with the best too — YellaWood Protector® semi-transparent stain and water repellent wood deck sealer.
Specially formulated for the makers of YellaWood® brand pressure treated pine.
These professional-grade, acrylic-oil hybrid wood stains and sealers are water repellent and provide excellent protection for all outdoor projects like decks, fences or outdoor furniture. In accelerated weather test exposure to UV light, condensation and high temperatures, YellaWood Protector® brand stains demonstrated color fastness and coating durability equal or superior to the leading competitor's tested products. Rest assured it meets the high expectations for products backed by the famous Yella Tag.
Wood stain and sealer has iron oxide pigments for rich, long-lasting color.
The premium alkyd oil finish in our deck stains penetrates wood providing superior moisture damage protection, while the acrylic finish repels water, resists wear and fends off mold and mildew. For homeowners who prefer a natural look, the clear, water repellent deck sealer is loaded with UV stabilizers to maintain that stunning appearance provided by Mother Nature herself.
How to stain a deck with YellaWood Protector®.
Step-by-step instructions for using YellaWood Protector® semi-transparent deck stain and water repellent sealer.
Why use YellaWood Protector® 
Easy application
Dries quickly
Cleans up with soap and water
Rich colors penetrate deeply and last a long time
Semi-transparency highlights the wood grain
Powerful water repellency
Low VOCs
Eco-friendly formulation
Available in convenient 1-gallon cans and 5-gallon buckets
No in-store mixing required
Three popular semi-transparent deck stain colors complement any style home
Clear water repellent deck sealer with UV stabilizers also available
What is the Guarantee/Warranty?
YellaWood® guarantees satisfaction with this product if it is correctly applied to a properly prepared surface in accordance with label instructions. We warrant the product to resist chipping, peeling, water damage, mold and mildew growth, and color fade.
What to know about applying YellaWood Protector® deck stain and sealer
You can apply deck stain and sealer as soon as construction is complete, the boards readily absorb a sprinkle of water and you have several days of dry weather in the forecast.
Coverage: 150-250 square feet per gallon
Application: 2 thin coats: spray, roll or brush (back-brushing recommended)
Timing:

Dry to touch: 1 to 2 hours
General use: 6 to 8 hours
Foot traffic: 24 hours
Rain safe: 12 to 24 hours

Re-stain: Every 2 to 3 years
Projects:
Decks
Fences
Siding
Outdoor Furniture
Pergolas
Gazebos
Other outdoor projects
Available Colors: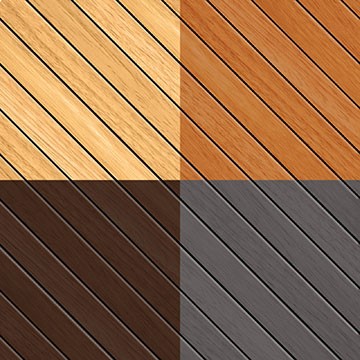 Crystal Clear (water repellent with UV stabilizer)
American Classic Cedar
Rich Walnut
Smoky Gray
Product availability varies by region.
Step-by-step instructions for staining a deck with YellaWood Protector®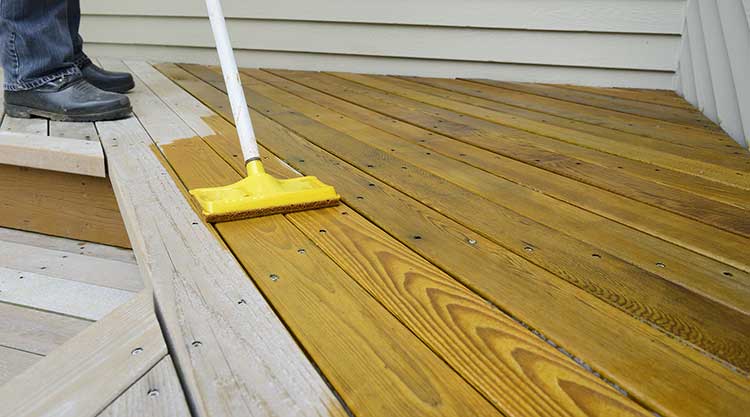 Know when to paint, stain, or apply water repellent.