Columns
No compromises. In strength or beauty.
Building with YellaWood® brand pressure treated glulam porch columns is one of the easiest decisions you'll face during construction. Made from high-grade lumber for structural durability and beautiful appearance, the strength ratings of YellaWood® columns rival more expensive PVC and composite options at a budget-friendly price. Plus, there's no more veneer wrapping for a clear finish. Columns are bonded with a formaldehyde-free exterior laminate that's environmentally preferable, building-code compliant and uncompromisingly strong.
* Please note: Because YellaWood® columns are kiln dried after treatment, they must be primed and painted or stained immediately after installation.
Download Installation Guide (PDF)
Download Column Specifications (PDF)
Technical Data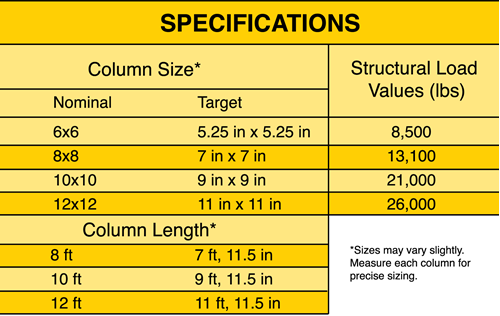 The preceding load table was derived from physical testing and the 2005 National Design Specification, published by the American Forest & Paper Association and American Wood Council. The columns should be installed only by a properly certified professional in accordance with applicable building codes and other laws and in a manner suitable for the specific application.
The Ultimate Backyard Book.
Find inspiration, building tips, and ideas for your next project.
Download the Book
Benefits
Factory-applied end sealant minimizes checking
The only columns end sealed with our trademarked "Yella color"
High-grade KDAT lumber
Hollow core makes columns lighter weight, provides increased structural stability and allows hidden electrical wiring
Less likely to twist and easier to install than solid timbers
More structurally sound than solid timbers
Bonded with a formaldehyde-free, exterior wet-use adhesive
Strength ratings rival more expensive PVC and composite options
Treated with micronized copper preservative for ground contact applications
Preservative treatment is both EPP certified and NAHB approved
Sold in small units, even pieces, for improved stock rotation
Backed by a lifetime limited warranty
Available In
Dimensions: 4x4" (solid); 6x6"; 8x8"; 10x10"; 12x12"
Lengths: 8', 10' or 12'
* YellaWood® columns are KDAT and must be kept completely dry prior to installation.
Product availability varies by region.
You can't have the ultimate backyard without the ultimate deck. View Gallery
Columns
Strength and beauty come together like never before.