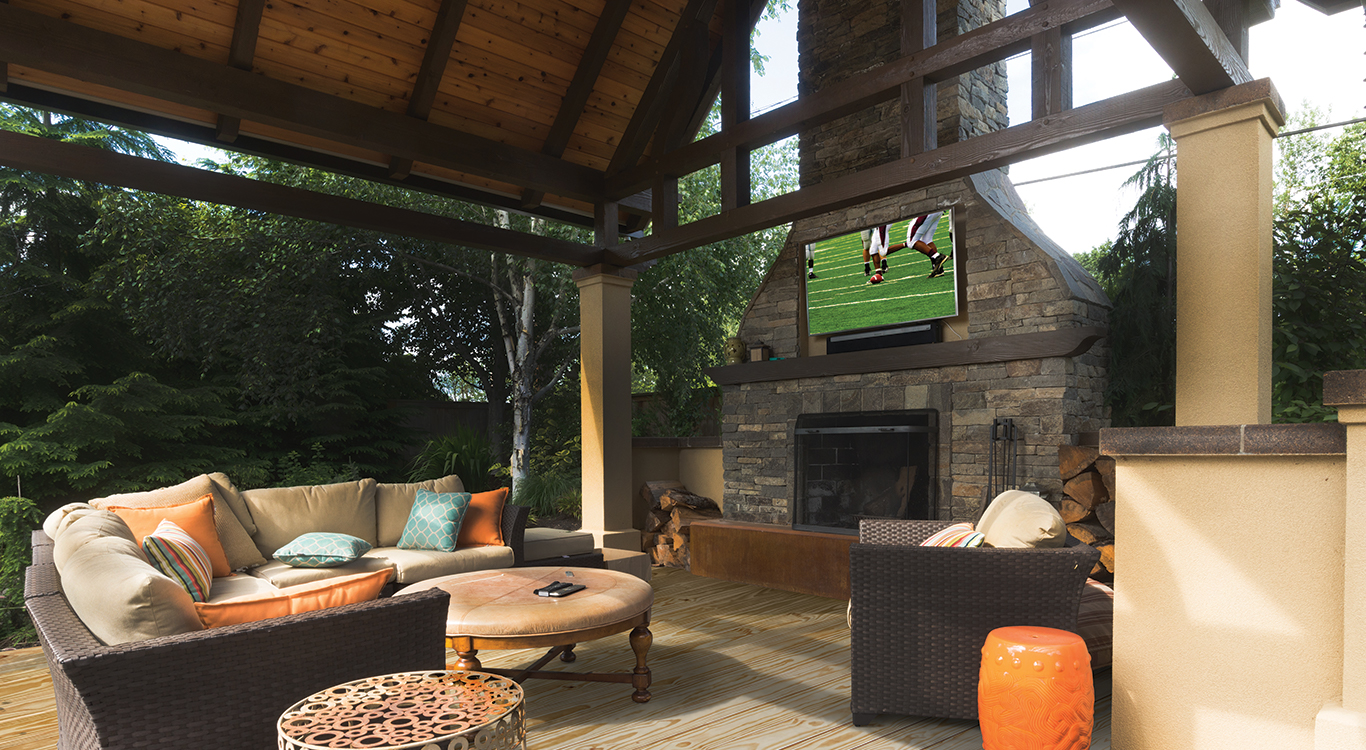 Choosing Outdoor Sound and Video
Add Some Juice
A little electricity makes any event more lively and elevates your deck or patio to epic proportions. For an unforgettable backyard gathering, you need lighting, a television, and some stereo speakers. You can enjoy music or watch the game while manning the grill. But the moment is only as good as your setup. Here are some tips for choosing the right lighting, video, and audio equipment.
Choosing a Television
Hauling the portable TV outside is fine on occasion. But the screen will be small and won't be viewable during the day. If you entertain regularly, you might want something you don't have to drag in and out. It's no surprise an outdoor television will cost more (a 43 in. LED model will be at least $1,499), but audio/visual (AV) installers say it's money well spent. There are three main reasons...
1. It's easier on the eyes.
"Outdoor TVs have a much brighter picture," according to Steve Brown of Great Choice AV in Edmond, OK. The sun can wash out a regular screen, but "outdoor TVs are set to a higher performance level in terms of brightness and contrast." In addition, the tinted screen will reject the sun's glare.
2. It's weatherproof.
"An indoor TV only has to get rained on once to be ruined," says Brown. By comparison, the outdoor TV's sealed enclosure keeps rain, bugs, and dust away from the internal components, reducing the chance of electrical hazards and extending its service life.
3. It can take the heat.
A sure way to reduce an indoor TV's lifespan is to leave it out in the Florida sun. That's not a problem with the outdoor model, which uses built-in fans and heat sinks to keep the electronics from frying.
Additional TV Tips
If you're hanging the TV on a wall, make sure the mount is rated for the outdoors. And when building a new deck or patio, decide ahead of time where you will locate the TV so your electrician can install an outdoor electrical outlet in that location.
Entertainment Necessities
Dim the Lights
When it comes to outdoor entertaining, light intensity can make or break the experience. A lot of homes have eaves- or wall-mounted floodlights, which are harsh and concentrate light in small areas. Wire your outdoor fixtures to a dimmer circuit, so you can turn up the intensity when you need it—to clean up after the party or help someone find dropped keys—then dial it back for ambiance the rest of the time.
Wiring for Sound
A good outdoor sound system includes an indoor receiver and amp, with conduit-encased wiring running to outdoor speakers. An app lets you stream music wirelessly from your phone to the receiver and amp, which then sends it over the wires to the speakers.
Looks Are Important
There are different types of weatherproof outdoor speakers, including models that can be mounted on ceilings, patios, and other surfaces. Some look like garden lights or are shaped like rocks. Sound quality can vary greatly, so it's wise to visit an AV dealer and listen to the sound before making a purchase.
The People Next Door
One last consideration. Many homeowners worry an outdoor sound system will annoy the neighbors. But a professional can configure the speakers so that they focus sound in the entertainment area. This includes using speakers that more accurately represent various frequency ranges. "Full sounding and loud sounding are not the same," Brown says. You can also opt for in-ground subwoofers, which can be buried in the yard or below a deck. They're engineered so that you feel the bass more than you hear it and only within a defined area.