What is KDAT?
Build the kind of backyard that stands out above all the rest. Build your next project with KDAT.
Wood that is KDAT, or Kiln Dried After Treatment, provides many advantages. YellaWood® brand KDAT materials give you the appearance of composite with the natural beauty and character of real wood. Dried to its original moisture content in a controlled environment, the wood dries evenly to minimize the natural tendency of freshly treated lumber to shrink, cup or warp. This high-quality lumber is the top choice for a stunning, unforgettable backyard.
How KDAT is different
Following pressure treatment, KDAT products are placed in a large oven, or kiln, where excess moisture is removed and the wood is returned to its original moisture content. With a stiffer and more dimensionally stable product, you'll minimize after-installation issues that occur when regular pressure treated wood dries naturally. It also means your lumber needs to be kept elevated, covered and completely dry before installation. After installation, it needs to be stained, painted or sealed immediately which is great because now you don't have to wait to finish your project. By comparison, freshly treated wood may take weeks or months to dry naturally enough to be finished.
Why the pros use KDAT products
Pros use YellaWood® brand KDAT because it provides the luxurious appeal of a composite deck while maintaining a completely natural look at a fraction of the price.
Excess moisture is removed, allowing immediate painting, staining or sealing
Wood dries evenly to minimize the tendency of freshly treated lumber to shrink, cup and warp
Easier to handle, cut and install
Weighs less than freshly treated lumber
Light, natural color for easy staining, painting or sealing
Pressure treated protection against rot, fungal decay and termite attack
Backed by a lifetime limited warranty
Products
KDAT Grades
Product availability varies by region.
Why Use the YellaWood® Brand?
Preservative technology is on the leading edge of the industry.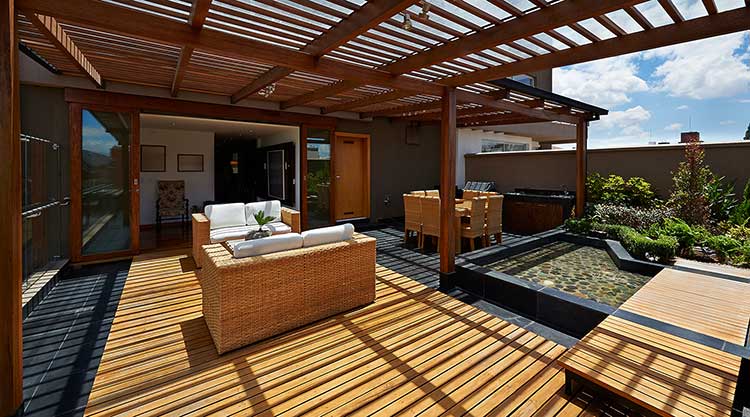 You can't have the ultimate backyard without the ultimate deck. View Gallery