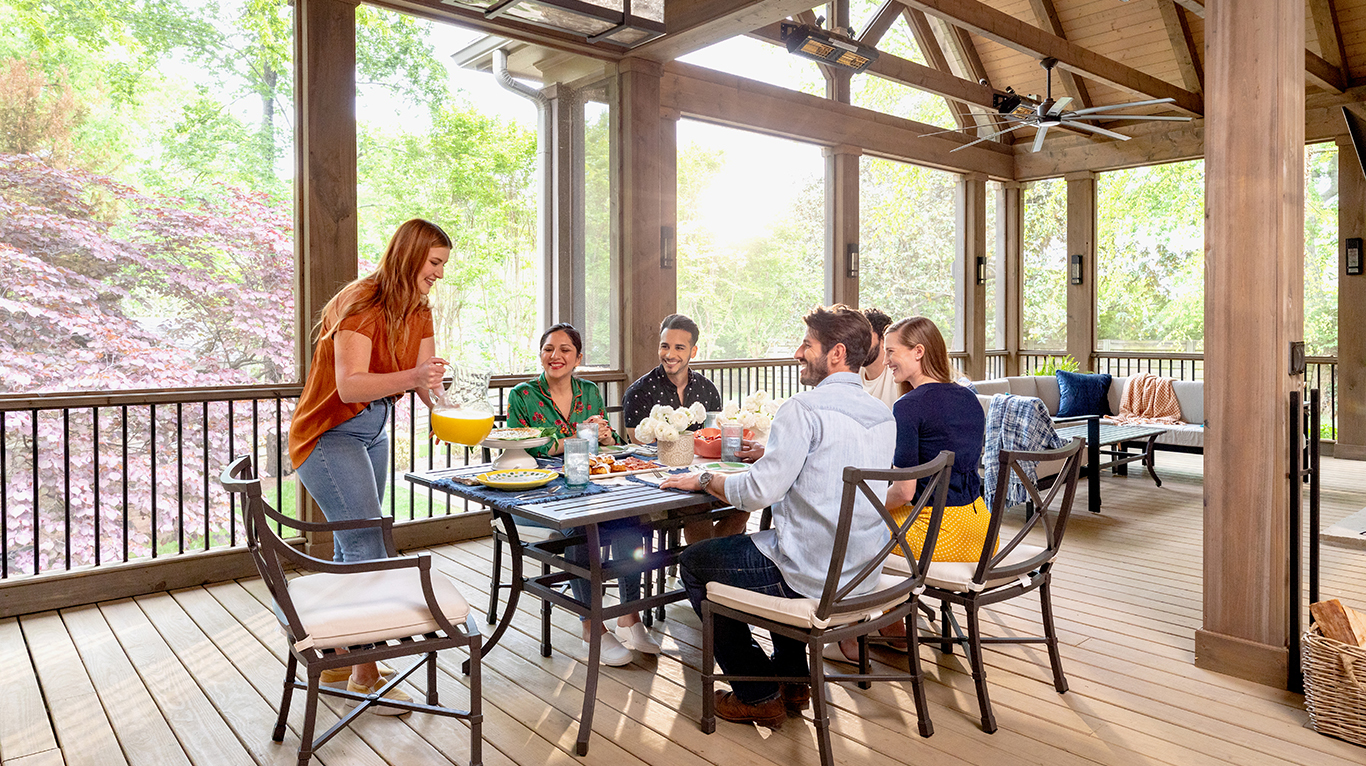 The All-Season Deck
Year-Round Enjoyment
Decks and patios evoke warm, sunny thoughts. But many people want to extend their backyard living beyond the summer. Roofs, arbors, and awnings provide both shade and cover from the rain, while new waterproofing systems let you turn the area below a tall deck into a sheltered oasis. There are many ways to make your backyard comfortable for all seasons. Here are some options...
A Backyard Room
Protection
Building a roof over your deck or patio creates a ceiling for hanging a paddle fan, and you can frame the perimeter for enclosure with insect screens. If it's a framed deck, make sure to also lay insect screening over the framing before installing the decking. This will prevent insects getting in from below. Protect your deck boards with YellaWood Protector® semi-transparent stain and water repellent.
All-Season
If you want a three- or four-season outdoor room, the options are limited only by your budget and imagination. A gas fireplace provides a warm amenity, while window options include folding windows to aluminum-framed screens to storm windows that can be swapped out by season. Expect prices for a basic 12 x 16-foot outdoor room to start at around $20,000.
Arbors and Pergolas
If an outdoor room is beyond your budget, opt for an arbor or pergola (two names for the same thing). Because arbors can be freestanding or attached, they offer a wider range of backyard use. Remember that while an arbor defines a space and can look great, it offers no rain protection and only minimal shade. Some people create additional shade with vines or by hanging decorative fabrics. They even create shade and rain cover by sloping the rafters and covering with corrugated panels.
Awnings
Of all the options for shade and rain cover, the simplest choice is a retractable deck awning. A drop-arm model—with metal brackets that pivot down from the wall, pulling the awing fabric with them—should cost $1,000 to $2,000, depending on size and whether you want a motor. Another option is a folding-arm awning, whose arms fold straight out from the wall, which can cost as much as a mid-range drop arm. For an extra $1,000, you can also get a motion sensor that retracts the awning on windy days.
Dry Below
An increasingly popular option is to waterproof the area beneath a tall deck. This makes a lot of sense when a walkout basement opens to that space. Waterproofing requires drainage beneath the decking that directs water to a downspout, usually installed on the farthest edge from the house. About a dozen companies now offer cost-effective, easy-to-install prefabricated systems.
Prefab systems come in two broad types. The first consists of pre-cut membrane pieces that are draped over the joists. The second type consists of metal or vinyl ceiling panels hung on the underside of the joists. Regardless of the option, you can create a sheltered space for sitting, dining, or grilling for roughly one-third the cost. Once word gets out, chances are we'll be seeing more of these.