Why YellaWood®?
When you build with the YellaWood® brand, you know your project is built to last.
There's a big difference between a house and a home. A home is where life happens, and it's the backdrop for some of your most cherished memories. Your home truly is where your heart is, and when it comes to your home, only the best will do.
That's why more homeowners choose to build with YellaWood® brand products. That little "yella" tag stands for quality.
Uses
YellaWood® brand products are available in a wide variety of grades depending on the strength and appearance requirements of your project, and uses includes fences, outdoor furniture, decks, gazebos, garden edging, landscaping structures, picnic tables and play sets. Outdoor exposure testing provides peace of mind that products treated with micronized copper preservatives offer superior product benefits compared to other copper-based wood preservatives.
Weathering Information
Thanks to a unique treating process, consumers can enjoy a more natural wood appearance, meaning no dark-green wood tint. This lighter color following treatment allows greater success for painting or staining your project to match your home. Left unpainted, YellaWood® brand products will weather to a honey brown and eventually to a familiar, and often desired, gray.
Specialty Treatments
YellaWood® brand products are also available with built-in water repellents for extra protection from the elements. The factory-applied water repellent provides protection to all four sides of the board, including those sides typically missed by a brush or spray-on repellent applied after installation. This gives consumers long-term performance and minimizes cracking, warping and twisting due to swelling and shrinking from weather cycles.
More homeowners recognize the benefits of building with products that have been kiln dried after treatment, or KDAT. This process, which involves drying the lumber in a large oven following the pressure treatment process, allows you to build with a product that will not shrink after installation. This controlled drying process minimizes the natural tendencies of pressure treated lumber to split, twist and cup as it dries out over time.
Another specialty treatment available with YellaWood® brand products is a factory-applied color pigmentation that gives the wood the beauty of cedar without the expense or the time spent staining.
Fastener Information
YellaWood® brand products exhibit corrosion rates on metal products similar to CCA treated and untreated wood. For exterior applications, hot-dipped galvanized fasteners are recommended as a minimum. Before you build, check local building codes and follow the fastener manufacturer's recommendations for their intended use. YellaWood® brand products are also approved for direct contact use with aluminum products in code-compliant applications with proper water drainage and no exposure to standing water or water immersion. Learn more about selecting the proper fasteners.
Environmental Certifications
When you build with YellaWood® brand products, you're getting not only the proven protection against rot, fungal decay and termite attack, but also a product that has earned a number of important environmental certifications.
Benefits of YellaWood®
Pressure treated with micronized copper azole
Proven performance in outdoor exposure testing
Available for Above Ground, Above Ground General Use, Ground Contact, Fresh Water and Critical Structural applications
Independent, third-party testing
Environmentally friendly
Lighter, more natural appearance
Improved painting and staining capabilities
Corrosion characteristics similar to CCA and untreated wood
Approved for contact with aluminum
Building-code compliant (ICC-ES Reports, ESR-2240)
Specialty treatments: water repellent, KDAT or factory-applied pigmentation
Limited lifetime limited warranty for residential and agricultural applications
15-year limited warranty for fences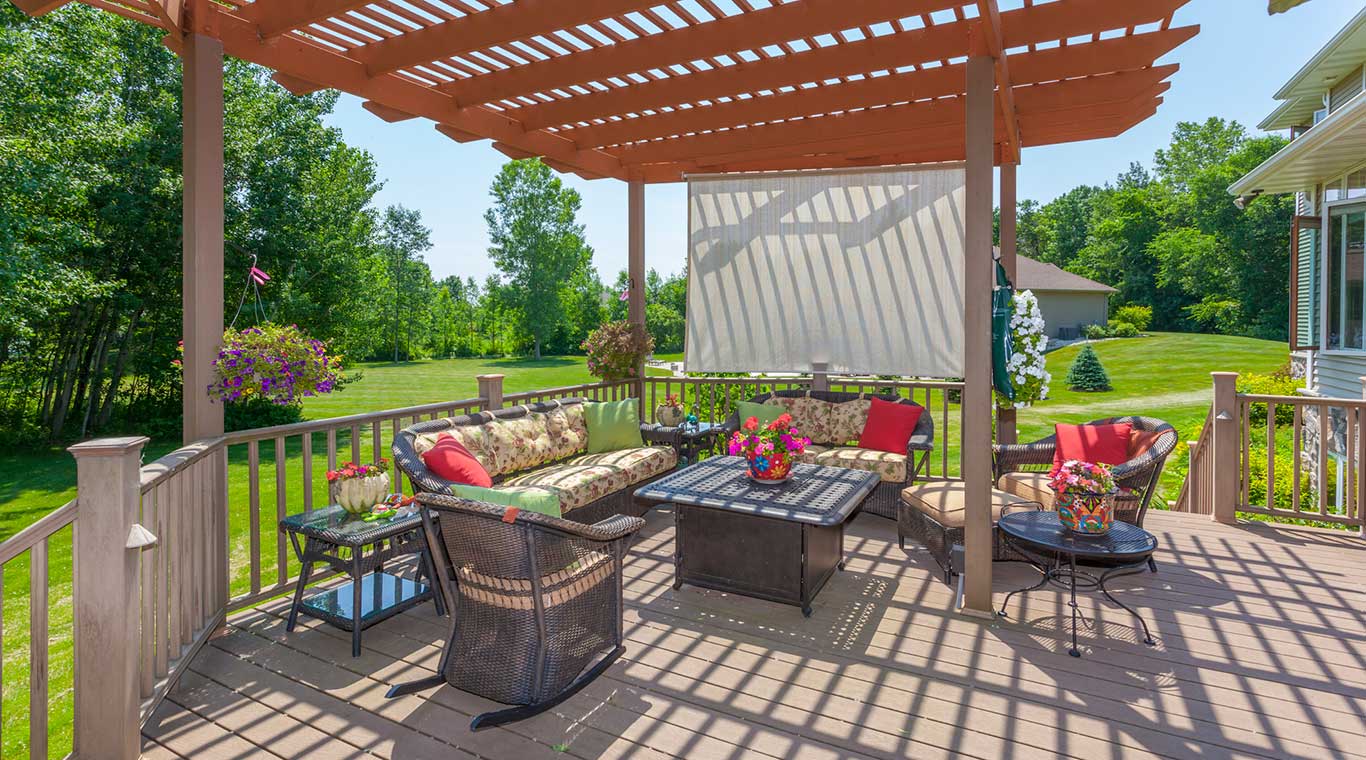 Get backyard inspiration by the bunches.
Why Use the YellaWood® Brand?
Preservative technology is on the leading edge of the industry.