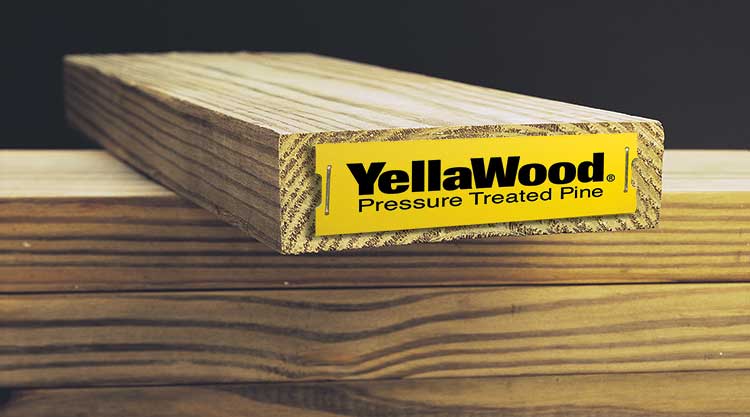 How to Read an End Tag
Start every project by checking the end tag attached to each piece of pressure treated lumber.
Here's what you need to know before you start building.
Make sure the end tag is yellow
If it's not, you don't want it.
End Usage
Check the end usage noted at the top of the tag. Make sure it matches your needs and the requirements of your local building code. You want your project to last and that starts by choosing the right material. You can learn more about retention on our website.
Warranty
Warranty information will be noted on the front of the end tag.
Code Compliance
The ICC/ES logo assures you that you're building with a building code-compliant material.
Third-party inspection
Third-party inspection gives you confidence in the performance of your project:
Many tags will also feature specific product details such as sizing and grades.
Nominal vs Actual
It is important to remember that the "nominal" size noted on the tag is not the actual size. For instance, a 2x4 is not actually 2" x 4", rather it is 1-1/2" x 3-1/2". The length can also vary from piece to piece. If your project requires precise lengths, it is best to buy long and cut to size.
Lumber Grades
Lumber grades may also be noted on the end tag and may be found stamped on the product itself. It is helpful to remember that lumber is graded based on strength properties and not necessarily on appearance, so #1 is stronger than #3.
In recent years, a greater emphasis has been placed on appearance. To accommodate this need, you may find a product labeled "Prime" usually preceded by a number, like "2 Prime". This indicates that it has been graded for the strength of #2 with an added emphasis on appearance. Because 5/4" deck boards are used specifically in decking applications, they are graded specifically on appearance with two options: Premium and Standard. As the names suggests, Premium decking has fewer appearance flaws than Standard decking does.
YellaWood® brand products are available in a wide variety of grades depending on the needs of your specific product, and your local building supply store will help you find what you need to make sure your project is a success.
What's on the back?
The back side of the tag contains important information such as handling and use guides and appropriate methods of disposal. It's got some very important items on there, so be sure to read it before you start building.