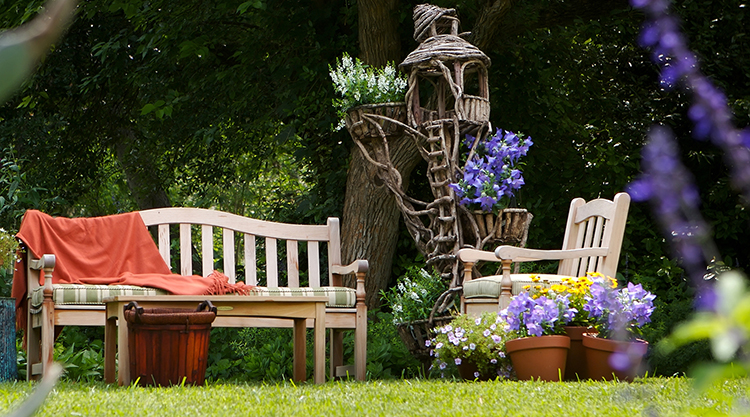 Choosing Outdoor Furniture
Your Relaxation Style
At the core, it's simple. Furniture and decor make a house a home, and a backyard into an oasis of relaxation. Exactly how you want to relax is the real question. Meals on the deck? Dining table. Sipping drinks by the pool? Loungers. Nights by a fire pit? Benches. Or all of the above.
Material Issues
Once you decide how to use your outdoor space, then decide what materials are right for the job. Choosing furniture materials is actually an important part of the decision-making process. Each has its own pros and cons. Missy Henriksen of the National Association of Landscape Professionals offers this perspective...
Natural Wood
Strong and durable with a reputation for high quality. Make it a point to look for tight-fitting joints and bolts. (Bolts hold together longer outdoors than glue.) Finishes and surfaces should feel smooth and free of flaws, including on the underside of a tabletop. Denser wood soaks up less water and requires less TLC over time, but plan on an annual recoating with preservative no matter what.
Rattan and Wicker
The informal look of these materials is fun, but the materials themselves have higher maintenance requirements. Look for wicker that fits tightly on the frame. Avoid anything that's unraveling or loosely wound. To keep rain and dirt from wearing down the woven structure, vacuum regularly and wash with an oil soap made for wood furniture. Re-coat with a finish every few years.
Steel and Wrought Iron
People like iron and steel for the design and decorative scrollwork. The weight of these materials makes them great choices for windy areas, but they're best used for stationary pieces. Even with a completely painted piece, it won't take long before rust spots show up on steel left out in the elements. These should be sanded down to bare metal and re-coated with a metal paint. Pieces with powder-coated finishes will be the most resistant to rust.
Aluminum, Plastic and PVC
These materials eliminate worries about rust and cost less than wood or steel, but their lighter weight means they're more likely to blow around in a high wind.
Protect Your Investment
Regardless of material, if you live in a cold climate, the most important thing you can do to make outdoor furniture last is get it out of the weather in the off-season. "No matter how weather-proof the furniture is, you'll want to store it over the winter to expand its lifespan," says Henriksen. "Consider the room you have for storage before you make a purchase."
Accessorize
Go for it with outdoor cushions, throw pillows, and carpet. Solution-dyed acrylic is a good choice for fabrics as it resists mold and its colors will be less prone to fading under the sun's ultraviolet rays. Carpets should be made specifically for outdoor use and easy to clean with a quick sweep or a spray from the hose.