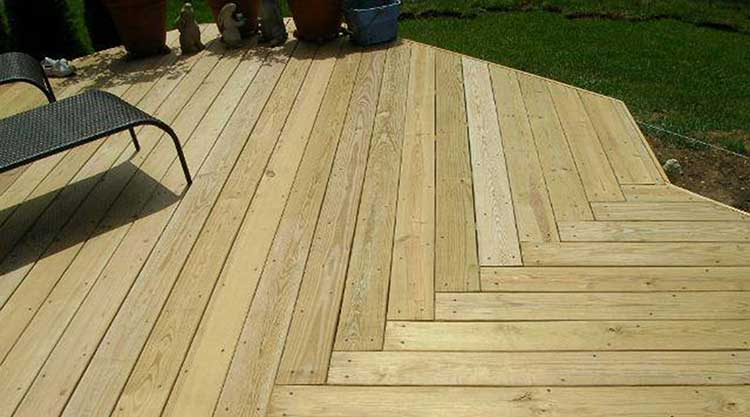 Micronized Copper Azole Preservative
YellaWood® brand products are treated with a micronized copper preservative.
Micronized Copper Snapshot
Treatment Type: Micronized Copper Azole (MCA)
Environmental Certification of the Treatment Process: Environmentally Preferable Product certification by Scientific Certification Systems based on Life-Cycle Assessment for Koppers MCA treated products
Protection from Rot, Fungal Decay and Termite Attack: Yes
Fence Warranty: Limited 15 Year
Above-Ground Warranty: Lifetime Residential & Agricultural Limited
Ground Contact/Fresh Water Contact Warranty: Lifetime Residential & Agricultural Limited
Paintable/Stainable: Yes
ESR: #2240 (Koppers MCA)
EPA Registered: Yes
Building Code Compliant: Yes
Corrosion Characteristics: Similar to CCA treated and untreated wood
Aluminum Contact: Yes
Characteristics of the Micronized Copper Preservative
Consumers have fallen in love with the lighter, more natural appearance of micronized copper treated products as well as their improved painting and staining capabilities. But YellaWood® brand products are also:
Approved for contact with aluminum
Long-lasting, durable, clean to the touch
Have no objectionable odor
Provide protection from rot, fungal decay and termite attack
Offer superior product benefits compared to other copper-based wood preservatives
YellaWood® brand products are available in Southern Yellow Pine and South American Pine species and are available treated for Above Ground, Above Ground General Use, Ground Contact and Fresh Water Immersion applications. The preservatives used in the treatment process are registered by the EPA as a non-restricted use pesticide and do not require Proposition 65 labeling in California. Products treated with micronized copper preservatives, such as YellaWood® brand products, as described in ESR-2240 are building code compliant.