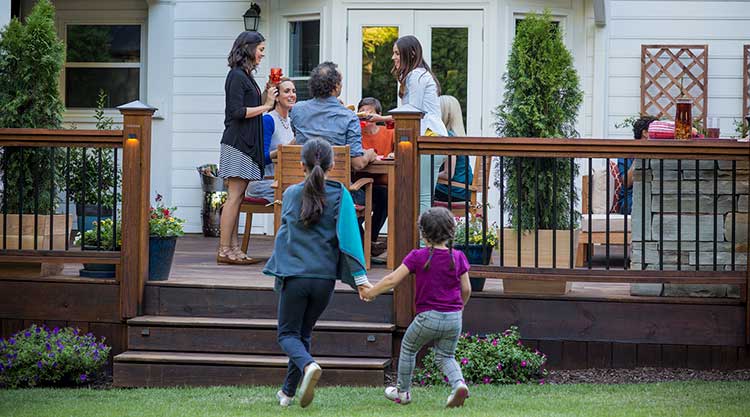 Deck Safety Checklist
Here are a few tips to ensure your deck is ready to enjoy safely:
1. Ledger Board
Check your ledger board (where the deck attaches to your house) to make sure the board is sound and fasteners are in place.
2. Flashing
Flashing is the metal or plastic guard that directs water away from sensitive areas of your deck, like the ledger board. Clean any leaves or other debris that may have collected and consider replacing or adding flashing where water may be collecting.
3. Support Posts and Joists
If you can get to them, check support posts and joists under the deck for structural soundness.
4. Decking
Deck boards and stair treads should not be sagging and should not sway when tested.
5. Railing
Push on all handrails and banisters to assure they are secure and do not sway.
6. Stairs
Risers and stringers should be checked to be certain they are securely attached.
7. Fasteners
Drive in any nails and tighten any screws or anchors that may have worked loose. Replace any rusted fasteners.
8. Cleaning and Maintenance
Remove all planters and furniture, and sweep away any leaves or other debris, and clean any mold with mild soap and water. You should also consider applying a new coat of water repellent, stain or paint as needed. Get more info on sealing, painting and staining.
9. Lighting and Electrical
Make sure all lighting is functioning properly.