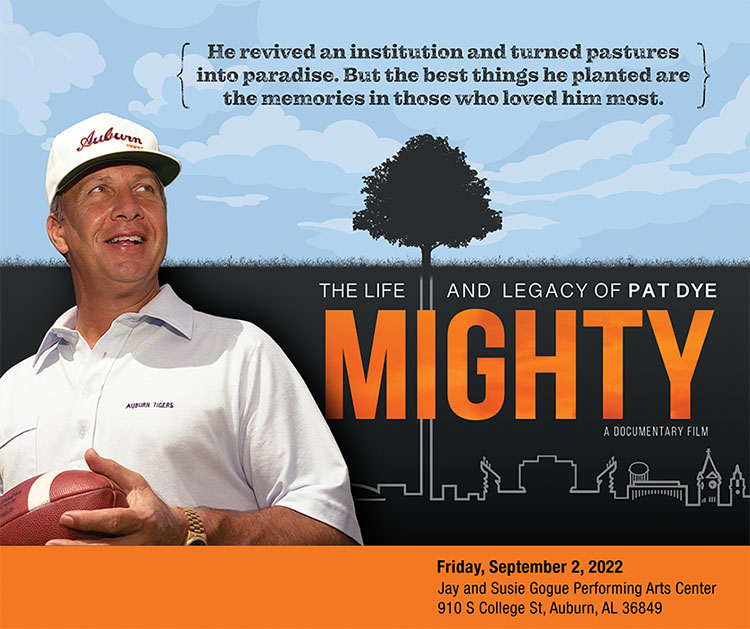 I'm honored to share some exciting news with you today about the documentary we've been working on celebrating the life our dear friend, Pat Dye. 
MIGHTY:  The Life and Legacy of Pat Dye will premiere on Friday evening, September 2, 2022, at the extraordinary Jay and Susie Gogue Performing Arts Center at Auburn University.  With that in mind, I wanted to share some important details about the evening with you as well as ask for your assistance. 
The weekend of 9/2 is a football weekend in Auburn so in order to provide everyone with a great experience, we need to know whether or not you're planning to attend.
If you are planning to join us and need assistance with accommodations, we need to hear back from you by next Friday, August 12.  Please respond either to me at my email address or by phone or to my assistant, Jennifer Tharpe, at jtharpe@yellawood.com and let us know your plans.
For those planning to attend, we'll then be back in touch with you with more information about your tickets and any other details you'll need to know.
The schedule for the evening is as follows (all times central):
(a gathering hosted at the Gogue Center by Tigers Unlimited)         4:30 – 6:30PM
This is a time of fun and fellowship, and you're invited to attend.
Doors open for general admission to the Gogue Center           5:30PM
(910 S College St, Auburn, AL 36849)
Premiere of MIGHTY: The Life and Legacy of Pat Dye               7:00 – 9:00PM
I can't thank you enough for your support of this project nor can I tell you how much I hope you'll be able to join us for this very special event.